Did you know that every year VOSA (the Vehicle and Operators Services Agency) discovers hundreds of unsafe operators of coaches, limos and novelty vehicles?
In April 2012 a crackdown on novelty vehicles in London handed out more than 70 penalties to rogue operators or drivers.
More than half were for vehicles that were unroadworthy.
On this page you can find ways of spotting a rogue operator, to make sure your event isn't ruined by a cowboy.
–
Tax, Insurance, and Driver Hours.
Some vehicles stopped by VOSA have the wrong kind of vehicle tax, and others have no tax at all! Vehicles for hire mustn't have 'Historic' or 'Exhibition' road tax – this means they are not passenger vehicles. Others didn't have insurance cover – if in doubt, ask to see the insurance documentation. Wrong tax or insurance will end your hire there and then if you get inspected.
Drivers are only allowed to drive a certain number of hours a day. Commercial vehicles are fitted with monitoring devices that can't be tricked, so VOSA will know if your driver is over his limit. This can spell the end of a party.
The best way to avoid all of these problems is to check your operator holds a valid 'O' (for operator) disc. These are licences awarded by VOSA who check that the operator keeps within the law.
–
Are They a Licensed Operator?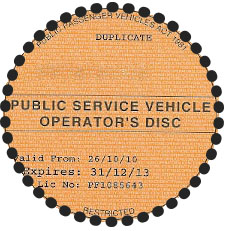 Does your bus display a disc like this?
To find out if your operator has a full 'O' Licence, you can search for them on VOSA's website.
You can view our licence here »