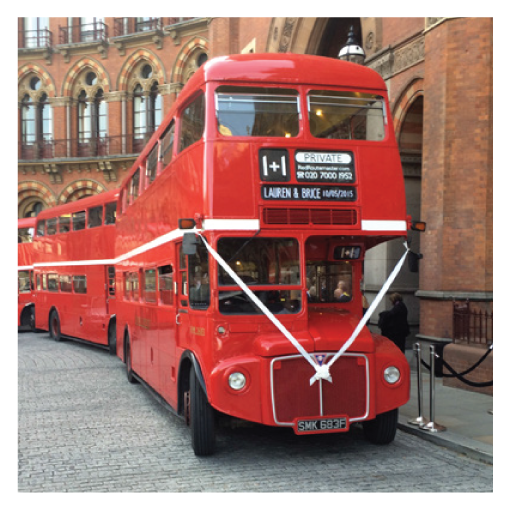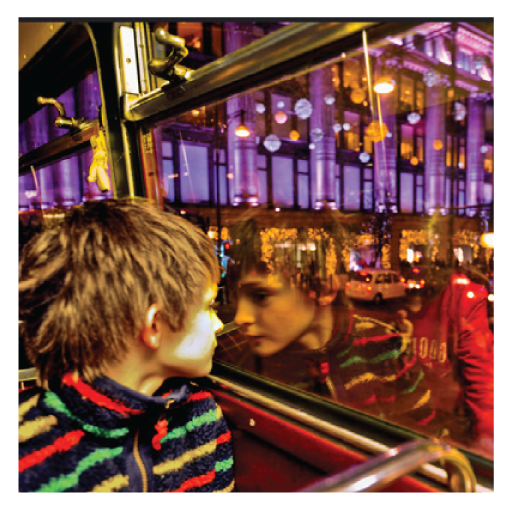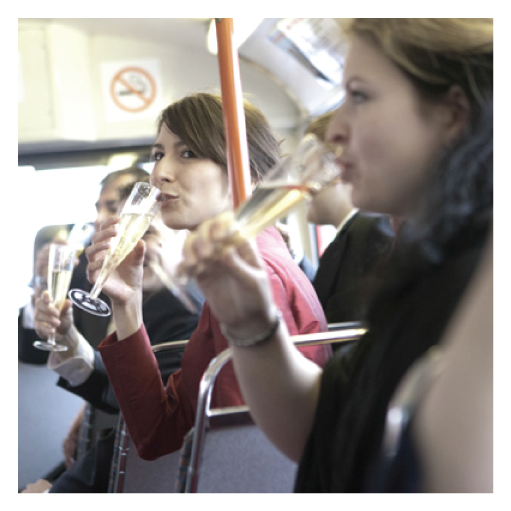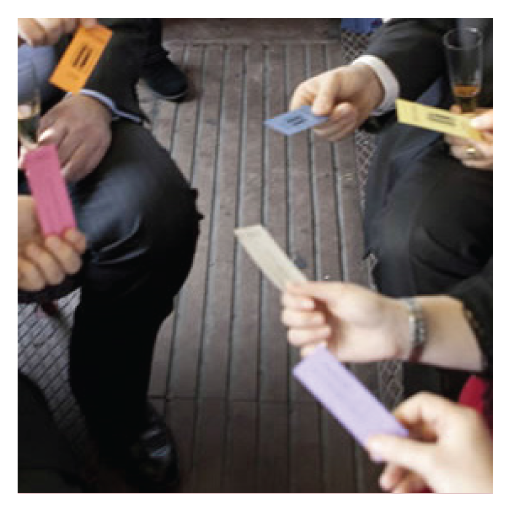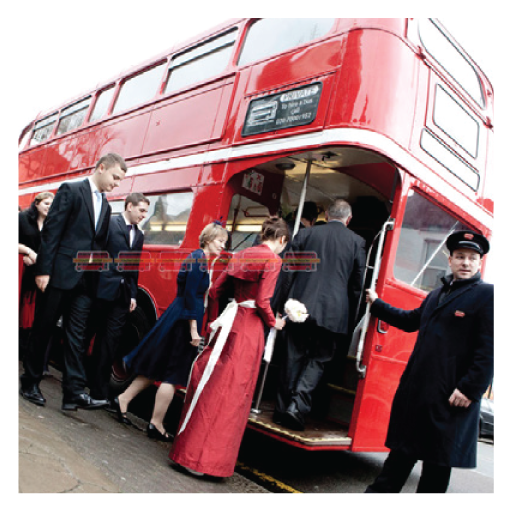 "We didn't know that you could do that…"
That's what we hear, day-in and day-out.
That's because, as a bus hire company, we're often tarred with the same brush as our competitors.
We're expected to be boring, uncreative and "stuck in our ways".
But We're Not…
You see, we're a young company, full of young ideas with the aim of making a splash in our very dull market place.
That's why we're willing to listen, challenge ourselves and create experiences that our customers (and passengers) just simply don't expect.
Over the years, we've supplied Routemasters for some weird & wonderful events, marketing campaigns and reasons.
In this ideas guide, I want to share details of some of the more interesting hires and give you some ideas of different ways in which you can utilise our buses.
–
FORGET COACHES, HIRE A ROUTEMASTER!
Need to transport a group of people from A-to-B and looking for the most efficient way?
Getting a coach seems the most logical way, right? Wrong.
With their open platforms, Routemaster buses allow you to load passengers much quicker than your standard coach.
Not only are they easier to board, but they also hold up to 72 passengers whereas most standard coaches hold no more than 56.
Plus, let's not forget that travelling on a Routemaster bus is always much more entertaining and memorable for guests than a boring coach trip.
On the 29th of July 2014, the World Class Bartender Of The Year competition came to the UK.
They required five buses, running multiple pickups over the four-day event – running from early morning to late into the night.
RedRoutemaster.com provided all of the buses, which were fully branded inside and out, to transport contestants from hotels to clubs & bars throughout London.
We also provided souvenir ticket stubs to all passengers, which doubled up as drink vouchers. They could have quite easily booked a bunch of coaches, but they found that booking Routemasters is actually much more effective for escorting passengers through the busy city streets.
Raynes Park High School also took advantage of our Routemasters extra space and quick boarding times. Every year, they bring students in year 5 to their school for a taster day prior to parents applying for places in Autumn.
In order to give the pupils a day to remember, RedRoutemaster.com provided transport throughout the week; collecting pupils from their primary schools in the morning and returning them in the afternoon.
It was vital that we met their timing in order to have all pupils arrive at the same time and be collected consistently each day – due to our state-of-the-art navigation systems, we were able to avoid the congested routes and meet time demands.
Once again, I'm sure coaches could have done the job – but year 5's won't forget the feeling of boarding a classic Routemaster bus any time soon.
–
I DON'T WANT TO SAY ROUTEMASTERS ARE MORE FAMOUS THAN THE QUEEN, BUT…
Routemaster buses are renowned for their London status.
Tourists often view them in the same light as red telephone boxes, black cabs and Yeoman Warders.
In fact, drive one of our Routemasters through central London and watch as tourists fight with their cameras to get a picture – they get so much attention.
In 2013, for the Queen's Diamond Jubilee, Bentley Drivers Club created The Brand Experience.
They arranged a weekend in London where all members attended a garden party in Buckingham Palace.
They used eight of our vehicles – all branded inside and out – to transport guests from various hotels to the garden party.
The theme was very much all about London. With that in mind, what better way is there to travel than aboard a beautifully restored London icon – a Routemaster bus.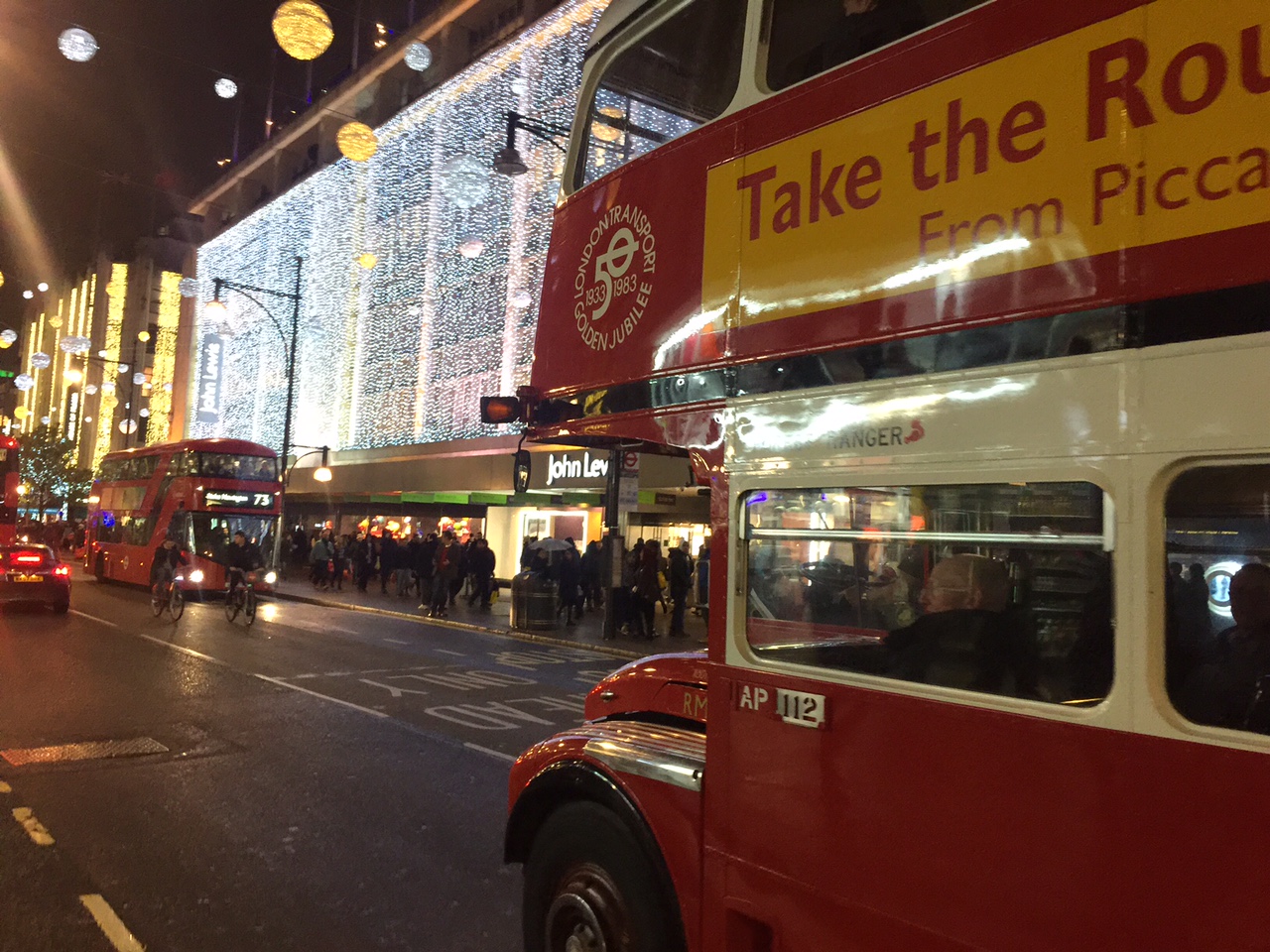 In 2015, Trend Factory based in Germany rewarded their staff with a weekend in London.They wanted to give their staff an experience of London that they'd never forget – so you can imagine their reaction when they were greeted by one of our Routemaster Buses when they walked out of Heathrow.
We transported them to their hotels, then we shuttled them around the city all weekend, taking them to see the sights – then in the evenings, we ran a number of scenic tours.
–
ROUTEMASTERS ARE GREAT FUN
Let's be honest – although we try our best to act like adults, we still get a little overly excited at times.
Let me tell you, from transporting thousands of passengers on our buses, we can assure you that boarding a Routemaster always produces a flurry of excitement.
From getting young children excited and curious to bringing back a flood of memories for the older generations.
In 2015, Slimming World held their 'Managers Weekend' event in London.
They wanted a fun mode of transport to take their guests to and from their hotels to various venues, with an arranged scenic tour with a blue-badged tour guide.
They decided that the best option was hiring a Routemaster and even injected an element of fun by having custom blinds on their buses and the custom-printed tickets were used for the weekend prize raffle.
LET'S NOT FORGET THE HERITAGE
Routemaster buses have been on the road for over 60 years and are a memorable part of many Londoners childhood.
But ever since the early 2000's, when the buses were replaced with the new style buses, there has been a huge heritage appeal for them.
As a member of the public, you can now only travel on a Routemaster if you use route 15H (the last remaining traditional route) or hire one privately.
From July to October 2015, Music Heritage London Ltd hired one of our Routemasters to run a 1960's
music tour around iconic London locations. They had a tour guide on the bus that gave passengers information about the sights and venues of London music.
In December 2015, we ran our 'Service C' London lights bus tour, which had a tour guide recording which was triggered by GPS tracking.
If you're focusing on the heritage and history of our famous city, then what better mode of transport than a classic Routemaster bus?
–
THEN, THERE'S ALWAYS THE NOVELTY…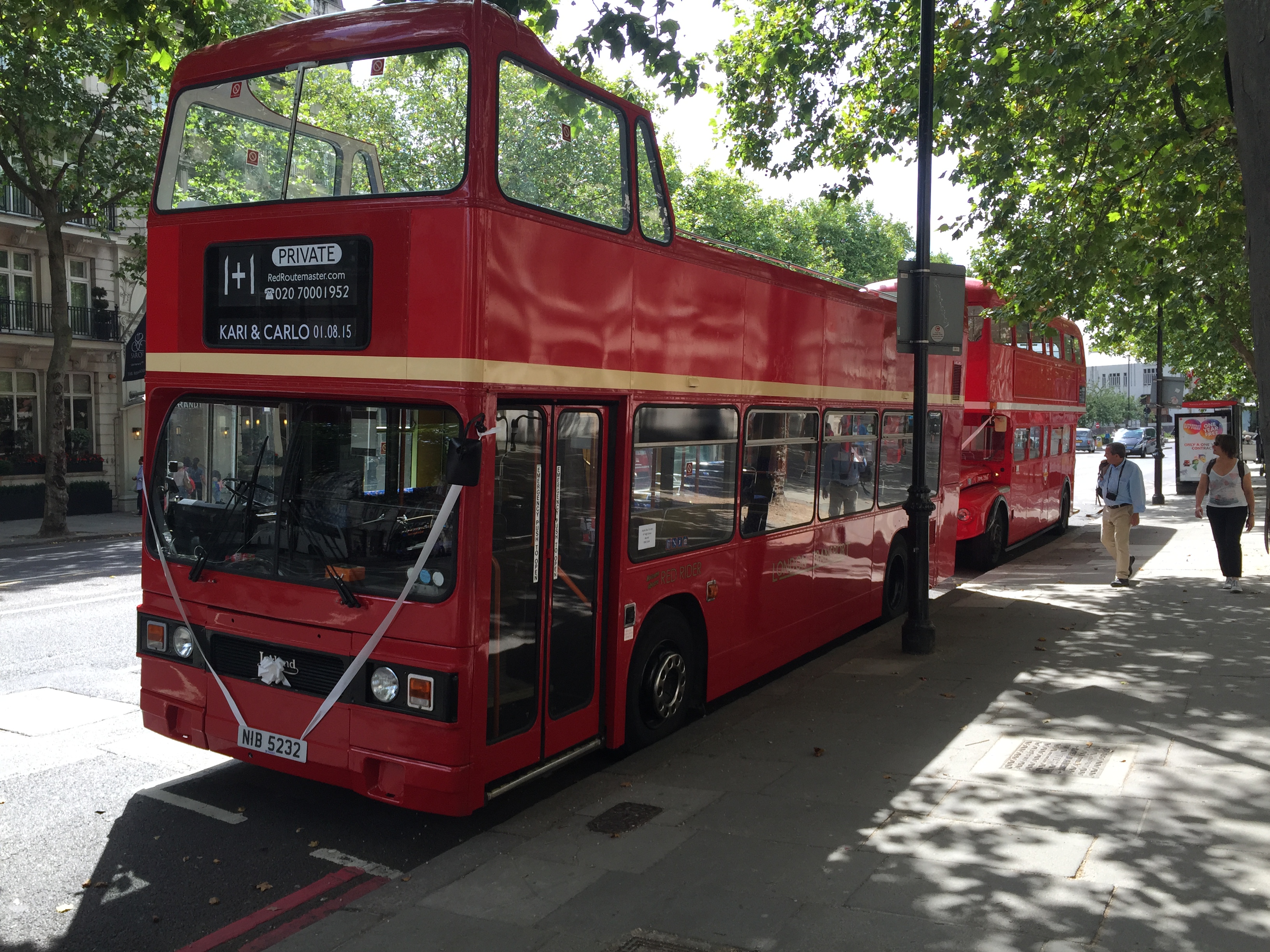 Not only do we operate a fleet of Routemaster buses, but we also have two open top modern vehicles – perfect for a sightseeing tour, a day at the races or a homecoming event.
I know what you're thinking "Open top buses in England?"
Well, that's why we have a unique fair-weather guarantee – if you book an open top vehicle and it's rainy on the day – we'll provide you with a closed top Routemaster bus for the same cost (or rebook for another day – subject to availability).
We also have a modern low floor double decker and single decker – which have previously been used for filming work.
We'll find a bus that suits your needs, budget and plans and help you execute the most simple or complex ideas that you may have.
–
WHAT ABOUT TAKING ADVANTAGE OF THE INTERIOR?
As well as offering advertising space on the exterior, we can also provide AV equipment on deck to allow on-board presentations.
All of our buses come with professional sound systems for playing music, plugging in a microphone or delivering GPS triggered pre-recordings.
We can even provide an internet connection through our on-board inverter at 240 volts.
We can remove seats to create space in order to accommodate whatever you have in mind.
In 2014, Red Bull took advantage of this feature by using AV equipment showing a video presentation. We collected a host of their new staff (who were being inducted) from their head office and ran a video presentation as we escorted them around the city.
Then in 2016, Hanwell Hootie Music Festival used one of our buses as a stationary 'Busking Bus' where we removed seats in order to create a highly popular performance space at the rear of the bus.
–
THE ULTIMATE MOBILE BILLBOARD
Our buses can also be used to drive your advertisements around London – whether mobile or static.
What could be more effective than putting your eye-catching adverts on the ultimate head-turning vehicle?
Whether you simply want some advertising boards or a full body wrap, if you're transporting guests to an event, you can ensure that the thousands of commuters/pedestrians that you drive past will see your advert.
Faust PR took advantage of this for their client Tiger Retail in August 2014. They sat one of our fully branded buses outside a number of tube stations and ran a shuttle service, taking passengers from Picadilly, Tottenham Court Road and Oxford Street to their new store, with Tiger

staff on board encouraging potential customers to ride the bus.
Another company to take advantage of our branding options was Aristocrat – supplier of game machines – who hired one of our buses to transport employees from their hotels to an exhibition at London Excel.
We then parked our bus outside the main doors of the exhibition with full branding throughout the day, before transporting staff back to their hotels after the event.
–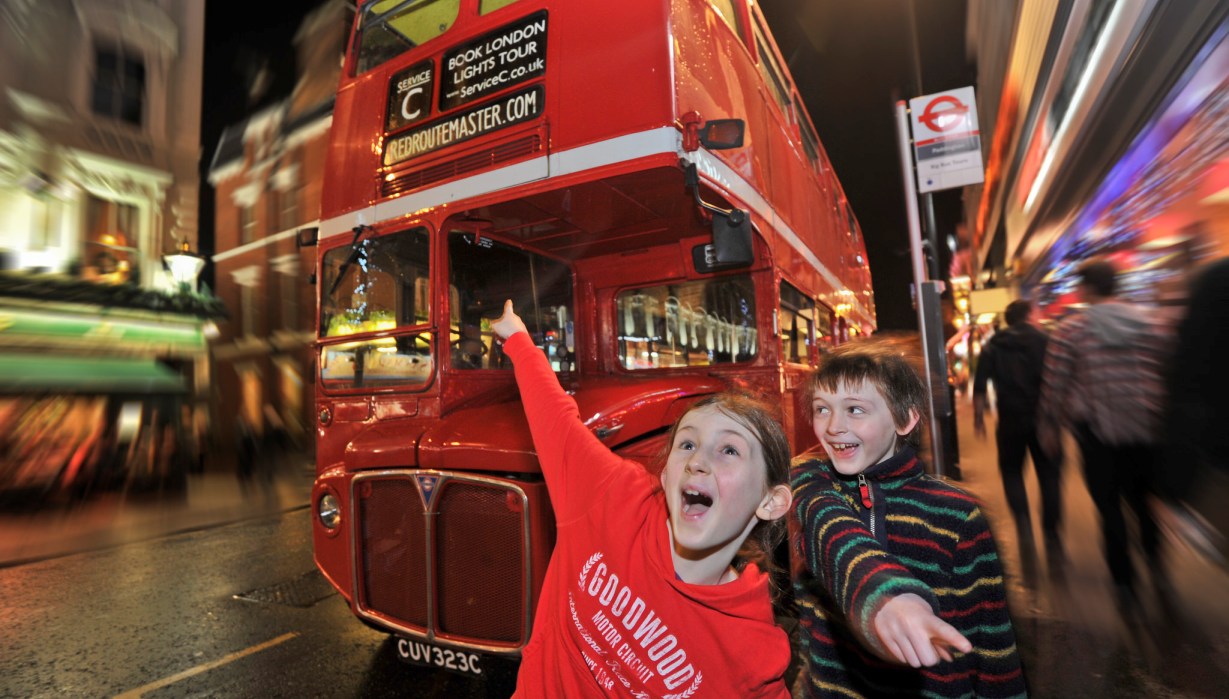 WHAT TO DO NEXT?
Got an idea that involves one of our Routemasters? Then let's have a no-obligation chat to see if we can help you bring your plans to reality. We have a host of experience making ideas come to life and we'd love to assist you in your next project.
Give us a call now on 020 7000 1952 or drop us an email at hello@redroutemaster.com or GET QUOTE