The Beast From The East Vs Vintage Buses = Only One Winner
March 4th, 2018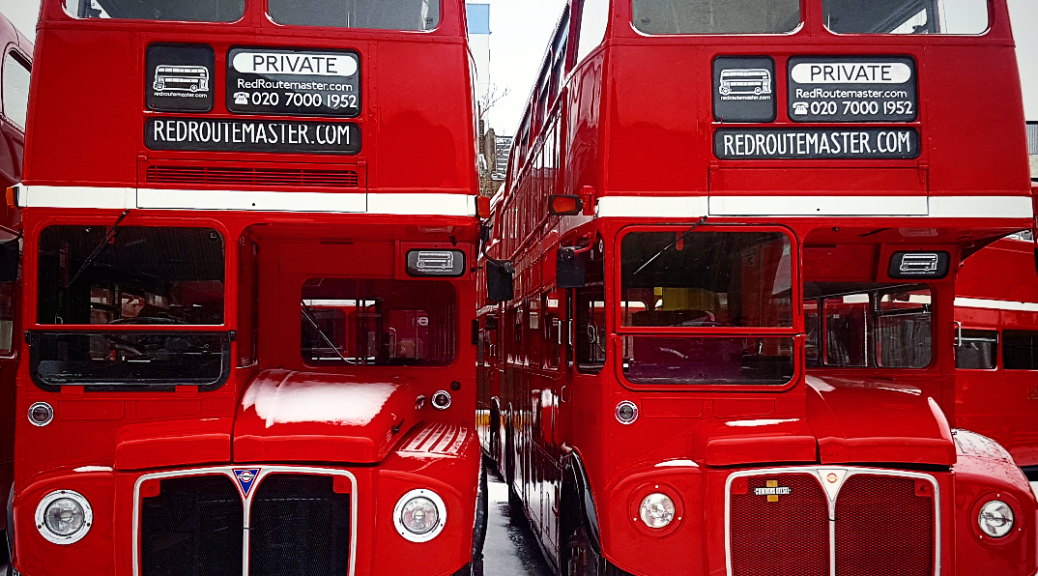 At RedRoutemaster HQ, we've responded to the threat posed by the Beast from the East (and now Storm Emma), as true Londoners should – that is, with lots of complaining, a lot of talking about the weather and a fair amount of hot tea!
But that's not to say the buses haven't been out and about putting smiles on peoples' faces, despite the bad weather.
As well as looking great against the snow, Routemasters are surprisingly resilient to bad weather, just another reason (as if one was needed) for us to love them.
They are sturdy workhorses and their light weight, low centre of gravity and low top-speed makes them pretty good at ploughing on through tricky conditions and getting to where they need to go.
So this week, despite the adverse weather which blighted much of the public transport network, we were able to carry on as normal; taking our brand new celebration bus (www.celebrationbus.uk) out for a spin earlier in the week, as well as popping out and about on a couple of wedding hires.
As if that weren't enough to be getting on with, our two new additions have also been earning their keep without even a chance to get settled in. Annie and Claribel were put straight to work this week on emergency rail replacement as Storm Emma caused the closure of several lines on the South Western Railway.
There's no defeating our buses (they don't make them like they used to) and if you'd like to get a no-obligation quote to hire one of our stunning routemasters, then give us a call on 020 7000 1952.