If Only Routemasters Could Fly
March 9th, 2017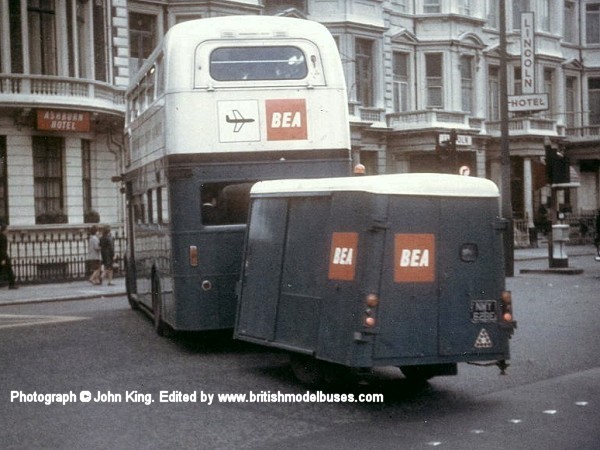 While researching the varied and interesting history of Routemaster buses I was surprised to find that British European Airways (BEA) actually owned 65 of them!
BEA had operated a service for some time transporting passengers between its West London Air Terminal and Heathrow Airport but as planes got bigger the buses couldn't cope with the volume.
Through 1966 and 1967 they purchased a fleet of 65 Routemaster buses with trailers for passenger luggage. These buses were tweaked so that they were capable of transporting passengers at 70mph along the M4 motorway. They would display the destination on illuminated displays (something which Routemaster introduced on their London bus services in 1964).
As an aside, these buses, you won't believe this, were heated with paraffin heater! Can you imagine trying to get away with that these days?
This fleet of 65 buses underwent some changes over the years, – from the original but dated white and blue to a garish orange that faded appallingly.
In 1974, after the merger of BOAC and BEA into British Airways, some of the buses were sold to London transport. The remainder were painted in dark blue along the bottom and white at the top. British Airways was proudly displayed on the side and front of the bus.
By 1978, British Airways had sold 36 of its 65 buses. The end of this month will mark the 38th anniversary of the withdrawal of the RMA from British Airways. The good news is that the remainder of these buses were also sold to London transport.
I love coming across information like this – it just reminds me of the incredible history behind every single one of our fleet of buses that are sitting in our yard.
They've all got a story to tell and as we look at the history of each one, they always surprise us (one lived in Denmark for nearly 30 years).
If you'd like one of our historic buses to be part of your big day or give your corporate event an authentic London spin, then give us a call on 020 7000 1952 or get your free no-obligation quote.