If you're planning a day out; the travelling can be awkward, boring and expensive.
You can hire a bland coach, book a bunch of train tickets or have a number of the attendees driving … all three have their drawbacks.
But have you thought about hiring a Routemaster to transport your group?
With 72 seats (twenty more than the average-sized coach) and your own private driver and conductor – travelling on one of our classic London buses will make the travelling as much fun as the event itself.
Whether you're going to the seaside, to the races or a tour of a castle – we'll be able to transport you in style on a classic bus.
All our vehicles are fitted with PA systems so you can play music, or even have a quiz while you travel.
We can jazz up your day with a personalised blind, or even decorations.
Our buses can be used for many functions:
Race Days
Birthdays
Family Events
School Trips
Graduation Celebrations
Sporting Events
Nights In The City
London Tours
Wimbledon
And Much More
–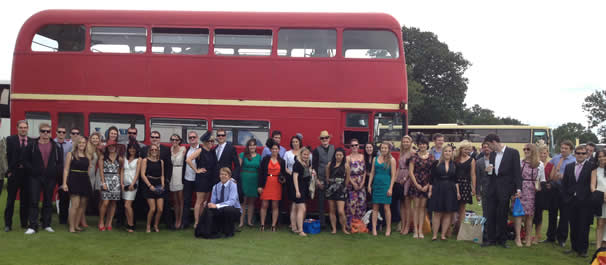 How many? Yep, thats right, you can fit this many people into our smallest bus. That's you, your friends, their friends, your neighbours…
–
I would like to say a huge, huge thank you … you made my job that much easier. We all had a wonderful day, at the races… THANK YOU"
Amanda, 23rd June 2012
–
Please click below to request a quote, or call 020 7000 1952 to find out what RedRoutemaster can do for you.